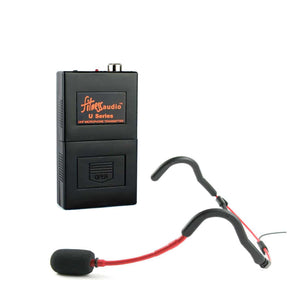 Get special bundle pricing on this combination of the most sweat-resistant UHF transmitter built for fitness aerobics classes, coupled with our best-selling fitness-rated headset microphone headset. Rated for up to three non-consecutive hours of sweat exposure per day., the E-mic headset has stainless steel cabling and a custom reinforced connection plug. This package includes a bodypack transmitter for Fitness Audio's U-Series of wireless mic systems. Special bundle purchase! One E-mic Fitness Headset and one replacement or additional transmitter for your Fitness Audio U-Series wireless microphone system.
Product highlights:
16 channel frequency agile UHF system
No external antenna on the transmitter pack
Coated circuit boards - to protect against sweat
Single ON/OFF switch on the transmitter
Rugged T4 connector on the transmitter pack - Single action keyway with locking button with an easy in, easy out - no twisting to release the headset. This has proven to be the best connector for fitness.
Maintains contact even under lateral torquing from floor exercise routines
Tone-coded transmission - eliminates spurious emissions and on/off pop noise
Warranty: 1 year
About the E-mic fitness headset microphone:
E-mic Fitness Headsets for group exercise classes and cycling studios. The E-mic is a noise-canceling microphone and can be used in the most acoustically challenging rooms. It is one of the only headset microphones that is specifically designed for Group Exercise training to prevent the sweat death many instructors run into with other major brands of microphones. This is a medium-use fitness microphone rated for up to three non-consecutive hours of sweat exposure per day. This microphone has become a staple for GX instructors for a reason: it's lightweight and can fit almost every head shape.
Water Immersion Screens - Better Capsule Protection
Shorter Boom Arm - Better Fit for smaller heads
Boom Arm Position Piece - Strengthens the Boom Joint to avoid the "droops"
Epoxied Boom Arm - Strengthens and Sweat Protects Boom Joint
Epoxied Spot Fills - For Extra Sweat Protection throughout the mic
Extra Cable Strain Relief on Headband
Steel Cable - Better Sweat Performance
Available in Black, Red, Yellow, Purple, and Blue
View: E-mic Specs
About the Fitness Audio UHF Transmitter:
Fitness Audio UHF Series - the best-built fitness wireless microphone system hands down! The simplified clean design takes a beating and keeps on delivering. Transmitter circuit boards are coated with a marine-grade sealer for additional sweat protection as well as the elimination of an external transmitter antenna (both Fitness Audio exclusives).
16 Channel UHF for those crowded RF markets where VHF is less reliable as well as the ability to offer one extra transmitter as a club backup that will work with any of the Fitness Audio UHF Series systems in the facility. This system has been sold worldwide to many happy facility directors.