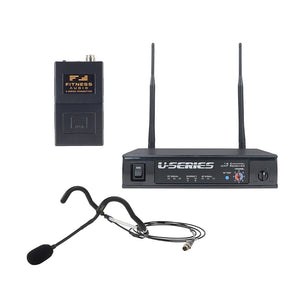 The 16 channel Fitness Audio UHF Body Pack System with E-mic Headset is built for fitness (up to 20 classes per week) with a single on/off switch, coated circuit board, and no antenna wire on the transmitter pack. 16 channel selectable for those cities that have crowded airwaves or for facilities that want to have a single transmitter as a spare. The simplified, clean design takes a beating and keeps on delivering.
16 channel UHF Body Pack System with No Antenna Wire on the Body Pack!
One of the Best Selling Fitness Audio Systems Worldwide. In addition to the features listed below, we now offer a marine-grade coating on the transmitter circuit board for additional protection from sweat. With the best-selling E-mic Headset!
Belt Pack Transmitter features:
Heavy Duty 4-pin connector built to handle the rigors of the fitness industry
Compatible with the most popular fitness headsets such as the Aeromic and the E-mic
16 Channel UHF Selection
No Body Pack antenna wire to fray and cause interference
One switch ON/OFF
9V battery (not included)
Receiver features:
True Diversity for better reception in difficult wireless environments
Tone Lock Squelch on receiver eliminates the on/off "pop" noise and unwanted frequency garbage when the transmitter is off
XLR and 1/4" outputs
Rack Mount (optional)
User Guides and Manuals
View: Fitness Audio E-mic Headset Care Instructions
View: E-mic Specs